Eleftherios ("Terry") J. Kotsatos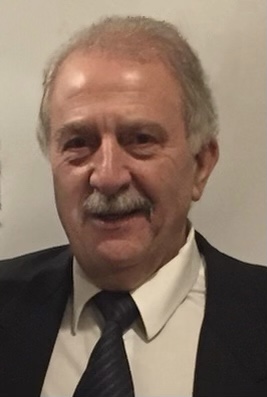 Eleftherios ("Terry") J. Kotsatos, 72 of Bethlehem passed away on July 30, 2021 surrounded by his family at Memorial Sloan Kettering Hospital in Manhattan, New York.  Terry was the husband of Despina "Debbie" E. (Vournou) Kotsatos, they were 48 years married on August 19, 1973.
Leftheri was born in Egrigoros, Chios, Greece on September 17, 1948, son of the late Ioannis and Irini (Gentidis) Kotsatos.
At the tender age of 14, Terry embarked on his global hospitality travels which involved working on cruise ships where he spent many years employed by Chandris Cruiseliners n/k/a Celebrity Cruises.  From that young age, Terry also manifested his devout work ethic by progressing to the highest rank of hospitality while working for these cruise ships.
Thereafter, he initiated a hospitality career on land by serving both as chef and owner of an iconic Lehigh Valley establishment, the Minsi Trail Inn, which was primarily known for its prime rib and seafood.
Aside from his career in hospitality, Terry, amongst friends and family, was best known as one the greatest impersonators of voices from his homeland villages as well as having a Pavarotti-like voice when it came to Greek Folkore songs or even Greek Orthodox Chanting.
For anyone who knew or worked with Terry, he was always attracting a crowd of family and friends gathering around him, filling not only his home but the Minsi Trail Inn and his church with fun and laughter.
As his Goddaughter stated "he had the most contagious laugh, the best stories, the biggest heart, and the ultimate work ethic.  You fought as hard as you could, your entire life, to provide for your family. You fought even harder to keep your strength these last few years."
He was a devout member of St. Nicholas Greek Orthodox Cathedral in Bethlehem, always willing to do what needed to be done for church festivals and holiday feasts  Terry was best known for his generous heart, always willing to help people regardless of that job being big or small; he would do the same for everyone
Survivors:  Wife Despina "Debbie", Son John, Daughter Renee, Grandchildren Leftheri and Mihali), Brother and Sisters, Nicholas husband of Despina "Debbie", Toula, wife of George and Maria, wife of Kosta, Sister-In-Law Eleni Sitaras, wife of John and Sister-in-Law Paraskevi Taktikos wife of Sotiri (deceased).  Many, many beloved nieces and nephews.
Viewing:  Sunday August 1, 2021 from 5:30PM to 8:30PM and on Monday August 2, 2021 from 9:00AM to 10 AM  all at St. Nicholas Greek orthodox Cathedral  1607 West Union Blvd. Bethlehem.
Divine Liturgy & Funeral :  Monday August 2, 2021 with Divine Liturgy at 8AM, followed by the viewing from 9-10AM  and then the Funeral Service at 10AM at the Cathedral, the service will be livestreamed using www.stnicholas.org/kotsatos
Burial to follow in Holy Protection Monastery 1 Saint Josephs Way, White Haven, PA 18661.
Funeral arrangements are by the Herron Funeral Home in Bethlehem, www.Herronfuneralhomes.com.
Contributions: In his memory to the Cathedral, Holy Protection Monastery or the Agape Fund of the Cathedral (A Benevolent Fund).