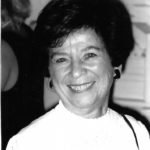 Anne R. Kline, 90, of Bethlehem, passed away on August 1, 2021 at Kirkland Village of Bethlehem. Anne was the wife of Eugene R. Kline for 45 years until his passing on June 30, 2001.
Anne was born in Wilkes-Barre on July 4, 1931, daughter of the late Edward J. and Helen (Kelly) Rogan. She had four brothers and four sisters – a truly wonderful Irish-Catholic clan that she cherished throughout her life.
Anne was a faithful and active member of Church of the Assumption BVM in Bethlehem.
Anne was an amazing mother, wife, friend, and sister. Her energy was infectious – always the life of the party.
She and her husband, Gene, loved to entertain. She loved to cook and he loved to host. They had an army of friends, along with her army of family (immediately adopted by Gene), that enjoyed many wonderful parties at their home in Saucon Valley.
Her passion was to help others, as evidenced by her volunteer work. Through her love for children and their well-being, she committed her time to Wiley House (now KidsPeace) for 11 years, where she served on the board and as President.
Her other volunteer work included endless hours spent planning and chairing events for the American Cancer Society – Boutique at the Rink, the Junior League, DeSales University, WLVT39, the United Way, the St. Luke's Ball, and the Allentown Art Museum, just to name a few.
For those that can join our family at the service, this is a celebration of a wonderful life, well-lived. She is expecting to see bright colors on those that can attend!
Survivors: Son Timothy R. Kline (Jill), daughter Betsy A. Kline (Walter C. Keiper), daughter-in-law Theresa Hogan (Katie), three grandchildren Andrew Kline, Annalise and Andrea Keiper; brother Patrick Rogan (Joan), sisters Betsy Schwingen and Ell Hufnagel (Jim). Predeceased by brothers Edward, Joseph, Paul and sisters Dorothy Kittrick and Mae Slaton.
Service: Mass of Christian Burial on Thursday August 5, 2021 at 11AM with a calling from 10AM to 11AM all at Assumption BVM, 4101 Old Bethlehem Pike Bethlehem, PA 18015. Funeral arrangements are by the Herron Funeral Home in Bethlehem, www.Herronfuneralhomes.com
Contributions: In her memory to the Eugene R. Kline Scholarship Fund at DeSales University 2755 Station Avenue Center Valley, PA 18034