Emanuel (Englezos) Englesson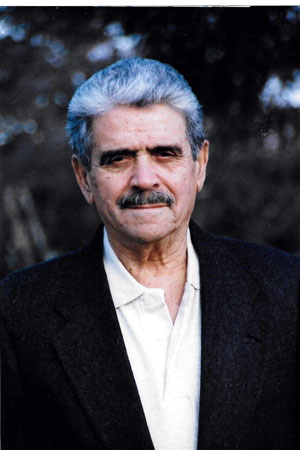 Emanuel (Englezos) Englesson, 97 of Bethlehem died on July 11, 2017 surrounded by family at the home of his daughter Debbie Coplin in San Jose, CA., where he resided for the last 2 ½ years of his life.  He was the husband of Calliope (Bournias) Englesson for 63 years until her death on August 8, 2013.
Emanuel was born on February 29, 1920 in Asia Minor, son of the late Nicholas and Sevaste (Sideris) Englezos. He was a refugee at the age of 2, survived the German occupation of Greece during World War II, the Greek Civil War immediately after, and the starvation that was created by both. After meeting Calliope in 1950, he emigrated to the United States in 1950, where he married the love of his life.
He owned the New Select Restaurant with his brother George Englezos in Bethlehem until his retirement.
Emanuel was a quiet man who loved deeply. He loved his family, he loved his church and he particularly loved his garden. He was an avid gardener and was known to all for his spectacular vegetables and flowers. He proudly shared his harvest generously. Throughout his long life his beloved Andros island was always dear to his heart. He and his wife traveled to Greece and Andros as often as possible.
Emanuel was a religious man and an active member of St. Nicholas Greek Orthodox Cathedral in Bethlehem. He served on the church council for many years and was very actively involved with the building of the current Cathedral on Union Blvd. He was a life member of the Order of AHEPA, Homer Chapter #65 in Bethlehem.
Survivors: His son Atty. Nicholas E.  Englesson of Bethlehem; daughters Despene E. Coplin, wife of William Coplin of San Jose, California and Sandy E. Baratta, wife of Joseph E. Baratta of Incline Village, Nevada; three grandchildren: Marcus Coplin, Kelsey Coplin and Sarina Baratta; nephews Dimitri Paterakis (Athens, Greece), and Nicholas Nichols (Margie); nieces Sandi Gallagher (Kevin), Cathy Knasiak (Drew) and Mary McAdoo (Edward); grandnieces and grandnephews Callie McAdoo, Samuel McAdoo, Alaina Gallagher, Marilena Paterakis, Natalia Paterakis.
Predeceased by a brother George Englezos and sister in law Mary Englezos, as well as his two sisters Helen Nichols and Maria Paterakis.
Service:  There will be a viewing Saturday July 22, 2017 from 11 AM to 12 noon followed by the Funeral Service at 12 noon at St. Nicholas Greek Orthodox Cathedral 1607 West Union Blvd., Bethlehem. Burial in Cedar Hill Memorial Park Cemetery in Allentown. Funeral arrangements are by the John F. Herron Funeral Home 458 Center At Market Street Bethlehem.
Contributions: In his memory to St. Nicholas Greek Orthodox Cathedral 1607 West Union Blvd. Bethlehem, PA  18018.