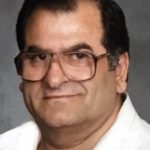 Nicholas G. Hahalis, 81 of Bethlehem died on July 4, 2017. Predeceased by his beloved wife Evangelia (Kalikas) Hahalis who died on July 4, 1996.
Nick was born in Chios, Greece on June 12, 1935 son of the late Yiorgos and Zaphira (Andreadis) Hahalis.
He was a cantor and member of St. Nicholas Greek Orthodox Cathedral for over 40 years.   Nick served on Parish council for many years.
Survivors: Sons George, his wife Kalliope, Dimitri, his wife Elenie, and Alexandros, his wife Stratonikh; sister Kyriaka Perivolaris, nine grandchildrenEvangelia, Nicholas, Paraskevi, Nicholas, Theodora, Evangelos, Yianni, Evangelia and Panayioti and many cousins, nieces and nephews here and in Greece.
Services: On Saturday July 8, 2017 the family would like Nicholas to Lay In State in the Cathedral starting at 8AM for the Orthos followed by Divine Liturgy at 9AM. There will be a public viewing from 10:15 AM to 11:30 AM, with the Funeral Service at 11:30 AM in St. Nicholas Greek Orthodox Cathedral 1607 West Union Blvd. Bethlehem. Burial in Altona Cemetery in Bethlehem. Funeral arrangements are by the John F. Herron Funeral Home 458 Center Street Bethlehem.