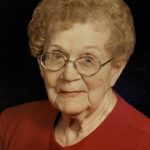 Emily E. Leiby, 97, passed away after a short illness on April 18, 2021. Longtime resident of Westminster Woods, she last resided at the Oaks. Born on March 14, 1924 in Allentown, PA, daughter of the late Morris and Ruth (Wolf) Snyder. Emily was married to Paul A. Leiby on April 28, 1946 at St. Matthew's Parsonage in Allentown PA. Paul passed away in 2010 after 64 years of marriage.
Emily is survived by two daughters; Linda Leiby Grant and husband Matthew of Camp Verde, Arizona and Gail Leiby Ulrich and husband Scott of Huntingdon. She was greatly loved by her 5 grandchildren; Todd Hambleton and Laura Vaughn of Texas, Andrew Heath and wife Chelsea of Pittsburgh PA, Derek Heath of Mechanicsburg, PA and Wendy Ulrich of Pittsburgh, PA. She has 5 great grandchildren and many nieces and nephews she loved staying in touch with.She was the last surviving member of her family, predeceased by brothers Richard, Wilbur and Paul Snyder and sister Marion Ziegler, all of the Allentown PA area.
She spent most of her work life in the garment industry, working side by side with husband Paul. She retired as Office Manager from Petersburg Manufacturing after 21 years of service. She was a member of St. James Lutheran Church, Huntingdon. She enjoyed spending time with her grandchildren as well as dear friend Cleo Gehrett. She also enjoyed her conversations with brother-in-law Dale Kemmerer of Allentown PA.
Due to COVID 19 limitations, a memorial service will be scheduled for a later date. Funeral arrangements are by the Sell Herron Funeral Home, 1145 Lehigh Street, Allentown, PA. www.Herronfuneralhomes.com
As a lifelong animal lover, Emily requested memorial contributions to Huntingdon County Humane Society, 11371 School House Hollow Rd., Huntingdon, PA 16652 in lieu of flowers.