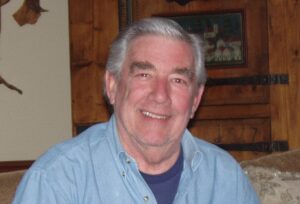 Ernest E. Walker, 81 years, of Bethlehem passed away on December 14, 2022. He was the loving husband of Dianne E. (Petrovich) Walker with whom he shared 58 years of marriage and was a wonderful role model for his children and grandchildren. Born in Allentown in November 1941, he was the son of the late Ernest H. Walker and Marie (Halleman) Walker and graduated from Liberty High School in 1959. After serving honorably in the United States Air Force from 1959-1962, he attended Penn State Extension and Indiana University of Pennsylvania for accounting courses and started his career at Bethlehem Steel in 1964 in the accounting and tax division, retiring in 1995 after 31 years.
Ernest enjoyed reading – especially history, fly fishing, hiking, looking at the stars and planets, and travelling across the United States and Europe. He instilled his love of the outdoors and nature to his family, especially with the incredible trips the family took to the American West in the 1970s. He had a terrific sense of humor, loved his wife, children, grandchildren and family, and always made it a point during visits or calls to tell them he loved them, was proud of them and to be safe out there.
He is survived by his wife, Dianne; his daughter, Waydell Walker; his son, Erik Walker and his daughter-in-law, Beth; his grandchildren, Emma and Samuel; his sister, Susan (Walker) Cowling and her husband, David; his brother, James; his sister-in-law, Joanne Walker; and many nieces and nephews. He was pre-deceased by his brother, Larry.
Services will be private at the convenience of the family. www.Herronfuneralhomes.com
Contributions:  In lieu of flowers, memorial contributions can be made to Pennsylvania Wounded Warriors at 1013 Mumma Road, Suite 203, Wormleysburg, PA 17043.