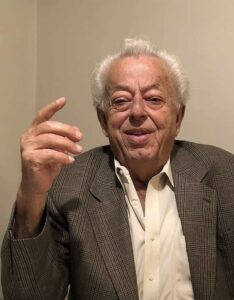 Vasilios   "Bill" Paxos of Bethlehem passed away on December 16, 2022 at Lehigh Valley Hospital -Muhlenberg in Bethlehem.
Bill was born in Kambia, Chios, Greece on February 19, 1942 son of the late Nikolas and Maria (Kalogera) Paxos.  He was the husband of Maria (Kalogeras) Paxos, they were married 55 years on November 12th.
Bill was the former owner of B. Paxos and Sons Produce and the Lehigh Valley Diner.
He was a member of St. Nicholas Greek orthodox Cathedral in Bethlehem.
Survivors: Wife Maria, daughter Vivi Kaloudis wife of Nick, daughter in law Parthena  (Noula) Paxos, grandchildren Michael and Marianna Paxos, Strato and Maria Kaloudis, sister Irini Rogakos, brother Kosta Paxos husband of Phyllis,  sister in laws Kalliopi Paxos and Vaso Paxos.  Predeceased by two sons Nicholas V. Paxos and Michael  V. Paxos, brothers Stelios Paxos and Christos Paxos.  Also survived by cousins, nephews, nieces from the US and Greece.
Viewing and Service:  Tuesday December 20, 2022, viewing 12noon to 1PM followed by the Funeral Service all at St. Nicholas Greek Orthodox Cathedral 1607 West Union Blvd. Bethlehem, PA  18018.  The funeral service will be livestreamed using the following link www.stnicholas.org/VasiliosPaxos
Burial in Altona Cemetery in Bethlehem.    Funeral arrangements by the Herron Funeral Home in Bethlehem, PA.   www.Herronfuneralhomes.com
Contributions:   To the Cathedral.