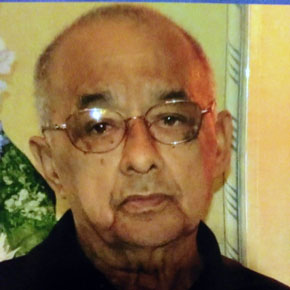 Esteban Rosario, 79 of Bethlehem died on May 12, 2017 at Lehigh Valley Hospital-Muhlenberg.
Esteban was born in Jayuya, Puerto Rico son of the late Juan and Antonia (Gonzalez) De La Cruz.
Survivors: Former wife Carmen Diaz, son Esteban Rosario, Jr. his girlfriend Nicole Michaels, daughters Maria Rosario, Olga Rosario, Nilsa Rivera, wife of Wilfredo, Mayra Rodriguez, wife of Ruben and Madelyn Rivera, wife of Carmelo;  sisters Darida Vazquez, Luz Perez and Rosa Rosario; three brothers in Puerto Rico; thirteen grandchildren Krystle, Vanessa, David, Luis, Janaida, Lydia, Migdalia, Shiann, Dean, Steven, Jayden, Noah and Jasiah; five great-grandchildren Janiah, Jaylyn, Linayah, Jaleah and  Jadiel.  A great grandson Alex is due to arrive in July of 2017.  He was predeceased by a great-grandson Isaac, twin brother of Alex.
Service:  Funeral Service on Wednesday at 1 PM in the John F. Herron Funeral Home 458 Center At Market Street in Bethlehem.  There will be a viewing from 11:30AM to 1PM in the Funeral Home.  Burial will be in Holy Saviour Cemetery in Bethlehem.