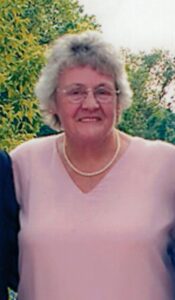 Ethel R. Seibert Aungst, 87 of Lakeville, PA  passed away on December 29, 2022.  She was the wife of the late Donald D. Aungst  and the late   William Seibert.  Ethel was born in Bethlehem on April 26, 1935 daughter of the late Thomas and Ethel (Green) Schoenberger.
She was the head of human resources at Lehigh Valley Dairy retiring after 17 years.
She was an active member of St. Paul's UCC in Allentown, where she taught Sunday School and was a Lay Minister for over 12 years.
Survivors:  Son Scott Seibert husband of Sandra, daughter Diane Bieber wife of Jeff, sisters Lili Labell and Barbara Chamberlain; 4 grandchildren Scott Weller,Sr., Michael Seibert, Jr., Marlena Allen Michael Bieber, 4 great-grandchildren Jordan Weller, Scott Weller, Jr., Adam Weller and Connor Allen and 1 great-granddaughter  Kennedy Funesti.   Predeceased by a son  Michael William Seibert and a sister Judy Veszpremi.
Viewing and Service:  Friday January 6, 2023 viewing 10AM to 11AM, Funeral Service at 11AM  all at the Herron Funeral Home 458 Center At Market Street Bethlehem, PA 18018. Burial in Northwood Cemetery in Emmaus. www.Herronfuneralhomes.com
Contributions:  St. Paul UCC 340 East Hamilton Street Allentown, PA  18103.