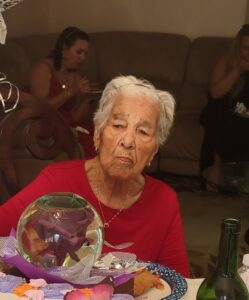 Eva Morel De Lopez, 96 of Allentown passed away at home on March 8, 2022, surrounded by her loving family.  She was the wife of the late Manuel De Jesus Lopez.
Eva was born in Omoa, Honduras on September 17, 1925 daughter of the late Domingo and Angela (Guerrero) Morel.
She was a member of St. Paul Roman Catholic Church in Allentown.
Survivors: Her daughter Ena Bogdanowicz wife of John, sons Eduardo Jesus Lopez husband of Adela Cordova Lopez, Enrique Lopez husband of Anabel Guemoylle Lopez and Rudy Omar Lopez husband of Yesenia Lopez; sister Ada Marina Morel Greenberg, brother Jacinto Morel husband of Nellie Morel; 16 grandchildren, 24 great-grandchildren and great-great-grandson.  Predeceased by a grandson Mauricio Lopez.
Viewing:  Friday March 11, 20022 from 6PM to 8PM in the Sell-Herron Funeral Home 1145 Lehigh Street Allentown, PA  18103. www.Herronfuneralhomes.com
Funeral Mass: Saturday March 12, 2022 at 11AM in St. Paul Roman Catholic Church 920  S. 2nd Street Allentown, PA  18103. Burial to follow in St. Mark's Cemetery 103 West Lexington Street Allentown, PA  18103.