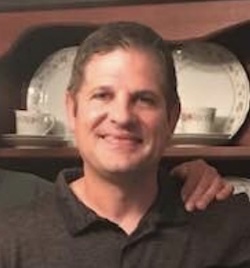 George E. Glykas 48 of Northampton passed away on Mach 9, 2022.
George was born in Bethlehem on September 26, 1973 son of Emmanuel and Sandra (Crandall) Glykas.
He was the owner of Precision Painting Company and also worked for Chios Painting Corporation.o  He was Christian.
He graduated from Liberty High School in 1992.  He was a wrestler at Liberty High School and later became a Professional Fighter for the MMA.  George graduated from DeSales University in 2009 with a BA in Social Sciences.
He was the assistant wrestling coach at Northampton High School.
Survivors:  His parents Emmanuel and Sandra, wife Tia; three sons Jordan, Markos "Renzo" and Davi, their Mother Faith Glykas all of Bath; grandson Jionni; sisters Rita Haberstumpf wife of Dominic of Bethlehem and Christina Glykas of Philadelphia; aunts, uncles, nieces, nephews and cousins.
Service:  Private, funeral arrangements by the Herron Funeral Home in Bethlehem. www.Herronfuneralhomes.com