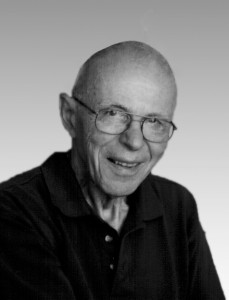 George Lampros, 88 of Bethlehem died on February 15, 2016.  Husband of Mary (Gudis) Lampros, they would have been married 65 years on June 17th.
George was born on June 30, 1927 in New York City, New York, son of the late Strates and Katina (Vouchelas) Lampros, who came to this country from Greece in the early 1900's.
He served in the US Navy during World War II.
George graduated from Columbia College with a BA in 1949 and in 1953 received his MBA from Columbia School of Business.
After he received his MBA he worked for several years at Nabisco in brand management.  He then joined Binney & Smith, where he spent the rest of his corporate career, in marketing and rose to the position of Vice President of International Operations.  When Binney moved their offices to Easton, George came to Bethlehem and became part of the Lehigh Valley community.  He was also self-employed as the co-owner of Herbert Charles Wholesale Grocery.
He was a member of St. Nicholas Greek Orthodox Cathedral in Bethlehem, active with the Senior Citizens and served a Chairman of the Building & Endowment Trust Fund.  He was also an active member of the Oder of AHEPA, Homer Chapter #65 in Bethlehem, serving as a Past President.
More importantly, George was devoted and loved his family and extended family in the U.S. and Greece.  He passed along his enjoyment of crossword puzzles (in ink, please), working in the yard, reading, cooking, dancing and going to the theater.  He will be missed by all, but a part of him remains and is evident in each member of his family.
Survivors:  Wife Mary, three daughters Katherine Lampros, her husband Richard Jackson of Flagstaff, AZ, Deborah DiBartolomeo, wife of Kevin of Oneonta, NY and Alexandra Lampros, wife of Hal Hallett of Oak Hill, VA; four grandchildren Nicholas, Alexis, Christopher and Mary Katherine.
Service:  Funeral Service on Saturday at 11 AM in the John F. Herron Funeral Home 458 Center at Market Street in Bethlehem.  There will be a viewing on Friday from 7PM to 9PM, with an AHEPA Service at 8:30PM and an additional viewing on Saturday from 10AM to 11 AM in the Funeral Home.
Contributions:   In lieu of flowers to the St. Nicholas Senior Citizen, in c/o Herron Funeral Home 458 Center St. Bethlehem, PA  18018.