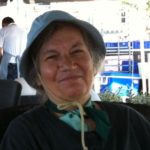 Georgia Karabatos, 72 of Bally died on January 21, 2018.   She was the wife of the late George P. Karabatos.
Georgia was born in Kalamata, Greece on February 7, 1945 daughter of the late Antonios and Aggeliki (Penesi) Tsopanakis.
She worked as an examiner for Great American Knitting.
Survivors: Sons Steve and his wife Becky of Bally, Peter and his wife Becky of San Francisco, CA; brother Kostas of Athens, Greece and Iannias of New York, NY and sister Adonia of Athens, Greece; 3 step-grandchildren and 13 step-great grandchildren. Predeceased by brother Nikos and sister Eleni.
Service: Viewing on Thursday, January 25th from 10-11AM at St. Nicholas Greek Orthodox Cathedral, 1607 W. Union Blvd., Bethlehem, service at 11AM. Burial to follow at Cedar Hill Memorial Park, Allentown. Funeral arrangements by John F. Herron Funeral Home, Bethlehem, PA.
Contributions: To St. Nicholas Greek Orthodox Cathedral, Bethlehem.