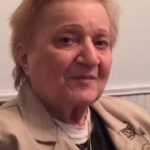 Lillian Romero, 82 of Bethlehem died on January 20, 2018 at home in the loving arms of her husband.   Wife of Augustine Romero, they were married 62 years on May 14th.
Lillian was born in Bethlehem on April 27, 1934 daughter of the late Henry and Vera (Bazeka) Mikelson.
Lillian was a member of St. Theresa's Catholic Church in Hellertown.
Survivors: Her husband Augustine, sons John Romero, husband of Ruth of Bethlehem Twp, Dennis Romero husband of Celena of Slatington and daughter Lisa Ann Zissa of Bethlehem; brothers Howie, Joseph and Adam Mickelson; seven grandchildren, two great-grandchildren. Predeceased by a grandson.
Service: Calling hours on Wednesday January 24, 2018 from 11:30 AM to 1:30PM followed by a Prayer Service at 1:30 PM in the John F. Herron Funeral Home 458 Center Street Bethlehem.
Contributions: American Cancer Society