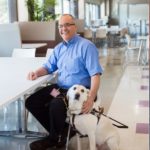 John M. Freiss, beloved son, father, brother, uncle, and friend, died very unexpectedly at his home on January 19th, 2018 at the age of 49. He was a graduate of West Virginia University and held a degree in Chemistry and an MBA from Moravian College. He was employed with the Marketing and Sales team at Evonik Industries for seventeen years and was Senior Channel Manager.
John is survived by his parents, Anne and Henry; his children, Ethan, Brian, and Ellie; his Great-Uncle Bill Freiss (Nancy); his siblings, Susan Freiss (Bruce), Kate Mickle (David), and Jim Freiss (Cari); along with his many nieces and nephews.
John was born on October 3, 1968, to Henry and Anne Freiss and grew up on their farm in Lebanon Township, New Jersey. The youngest of four siblings, John looked up to his sisters and brother and remained close to each of them. He enjoyed learning new things, reading, and making people laugh.
In 2004, John lost his sight and faced the challenge of a new life with bravery and humor. His larger-than-life personality and resilience carried him through and were contagious. With his seeing-eye-dog, Hero, by his side, John refused to let his loss of sight slow him down. He kept pace with his job and traveled internationally. He put to use his natural leadership and helpfulness by becoming Vice President of the Lehigh Valley Council of the Blind. He was described by his friends at the Council as an inspiration and role model.
Above all else, John was devoted to this three children and being a father to them was his greatest joy. Any conversation that John began, inevitably led to him beaming with pride as he described their latest accomplishments and adventures.
John will be deeply missed by his family and friends.
A celebration of John's life will be held on Sunday afternoon, January 28 from 3-6PM at Herron Funeral Home, 458 Center St., Bethlehem, PA with a funeral mass on Monday, January 29 at 10AM at Holy Family Catholic Church, 23 Forest Dr. Nazareth, PA and interment following at Holy Family Cemetery in Nazareth, PA. In lieu of flowers, please consider a donation to The Seeing Eye, Morristown, New Jersey or The Lehigh Valley Council of the Blind, 1944 Girard Ave., Allentown, PA 18104.