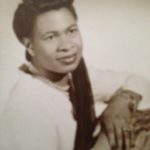 Our family was blessed to learn from the intelligent and omnipresent Lois! Lois Geraldine Miller, 94, citizen of Bethlehem, PA peacefully passed away in the morning on January 17, 2018. She was the wife of the late Guy Miller.
Lois was born in Roatan, Honduras on February 28, 1923. She was the daughter of the late Draper and Felipa (Bennett) Bodden. She was the sole survivor of their ten children.
Survivors: Son, Kym Miller; daughters Sonya Miller, Renee Jordan, and Michele Miller; 11 grandchildren and 7 great grandchildren. Predeceased by a sons Gregory and Rodney Miller.
Brunch: Pre-service Brunch will be served at Blue Grillhouse at 4431 Easton Ave, Bethlehem, PA from 11:30 AM to 1:30 PM on January 20, 2018. The Viewing and Service will follow per the details below.
Service: Viewing on Saturday, January 20, 2018 from 2:30 to 4:00 PM with a Service at 4PM in the John F. Herron Funeral Home, 458 Center Street, Bethlehem, PA. Burial with Prayer Service on Monday, January 22, 2018, 11:00 AM at Merion Memorial Park, Inc., 59 W. Rock Hill Rd, Bryn Mawr, PA.