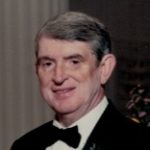 Henry F. Trexler
I died several days ago from Metastatic Prostate Cancer. If our paths crossed over the years, I hope I treated you with dignity and respect. If you care to learn a little more about me, read on.
Born on November 9, 1939 in Ringtown, PA and passed on December 18, 2017 in Bethlehem, PA at the age of 78. Parents, Charles H. who died in 2007 and Mae E. (Moyer) who is now 101 years old. Married to Andrea U. (Bergalis) Trexler on April 15, 1962 in Tamaqua, PA. Children, Pamela L. (Trexler) and husband Mark Shirley, Greenville, SC; Jeffrey T. Trexler and wife Maralee, Santa Barbara, CA; Jonathan D. Trexler and wife Kristin, Bethlehem, PA. Grandchildren, Evan and Eric Shirley (Pamela); Lucas and Olivia Trexler (Jeffrey); Dylan and Emily Trexler (Jonathan). Siblings, Barbara V. (Trexler) Hennessy and husband Eugene, DelRay Beach, FL; Harold D. Trexler and wife Gladys, Ringtown, PA. Nieces and nephews, Jill (Clark) and Cheryl Hennessy, (Barbara); Daniel, Dana (Heckman) , and Devin, (Harold).
Education: Ringtown High School (1957), Albright College, Reading , PA (1957-1958), Moravian College, Bethlehem, PA (1967-1969). Degree in BS in Mathematics, Moravian College (1970). Served in the U.S. Army Security Agency (1962-1965). Stationed at Fort Dix, NJ, Fort Devens, MA, Shemya, AK, Fort Meade, MD. Worked at Berless Bearings (Patterson, NJ) (1958), Northfield Precision Instrument, Island Park, NY (1958), Dorr-Oliver, Hazleton, PA (1959-1962), National Security Agency, Fort Meade, MD (1965-1966), Bethlehem Steel Corporation, Bethlehem, PA (1970-1992), EDS Corporation, at Bethlehem Steel Corporation, Bethlehem, PA (1993-2000). Retired March 31, 2000.
When you strip away all of the hype, life remains physical and emotional pleasure and physical and emotional pain. Maximize the former and minimize the latter, and you've lived a good life. And in that respect, I've lived a dream life. I've been fortunate to be surrounded by good, strong people. My wife and soulmate for over 55 years- Andrea- has given me companionship and love. My kids are successful and talk to one another despite being spread across the county. My family has always been in touch. I've had great co-workers- The Hipper, Greg Thomas, Mike Shoup, Buffalo Dick Adams, George Burton and Bob Russo, just to name a few. St. Luke's Hospice healthcare workers, The Monday Morning Breakfast Club. I have no regrets. So Long. I'll be flying away in the morning.
Contributions to St. Luke's Hospice or St. Jude's Children's Hospital in Memphis.
Services were previously held at the John F. Herron Funeral Home in Bethlehem, PA.