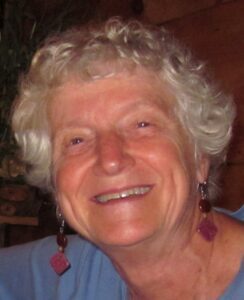 ILSE STOLL, age 80, of Bethlehem passed away in her Kirkland Village home on Feb. 3, 2023. She died peacefully in her sleep after a gathering where family members had a chance to say goodbye. Born in Stuttgart, Germany, Ilse was the daughter of Hermann Stoll and Hildegard Beinhauer Stoll. Family was the most important thing to Ilse. She is survived by her loving husband of almost 36 years, Allen Zinnes; daughters Heidi Corrigan, Sigi Koko and Marci Snyder; stepchildren Andrew and Alexandra Zinnes; and 6 grandchildren: Brian, Kirsten, Eli, Casey Mae, Caleb and Cash. Surviving in Germany are her sister Eva Lanka in Berlin; nieces Judith & Dagmar; and nephew Henning. She was predeceased by her sister Traudel Mester.
Ilse grew up near Stuttgart and studied chemistry at the Dr. Flad Institut. She came to America in 1963, mastered the English language and singlehandedly raised three daughters while earning a master's degree in chemistry from Lehigh University. Ilse was awarded three patents during her extensive career working as a chemist for several employers in the Lehigh Valley, retiring from Agere in 2001.  After retirement, Ilse went back to work part-time as the quality control officer at Benchmark Analytics, a local water-testing laboratory, and then served as president of this company for almost a year prior to her second retirement in 2012.
Ilse was an active member of the Unitarian Universalist Church of the Lehigh Valley, serving in many leadership roles, including church president. Her commitment to human rights and social justice issues led Ilse to establishing, with the Church's sponsorship, HAVEN, the Lehigh Valley's first LGBTQ organization for young adults. Ilse was also active in PFLAG, a support group for parents and loved ones of gay youth.
Gardening was one of Ilse's greatest passions, with particular interest in North American native perennials. She introduced many people to native plants with her enthusiasm and generosity and by leading many plant sales at the UU Church of the Lehigh Valley. If you knew Ilse, you likely had several plants from her in your garden.  Ilse was a Penn State Extension master gardener and a member of Bethlehem Backyards for Wildlife. Through these organizations she helped to establish and maintain the pollinator garden at Burnside Plantation, the meadow garden on the South Bethlehem greenway and the Hoover-Mason Trestle at SteelStacks on Bethlehem's southside.
Ilse was also a musician and loved playing and performing music from the European Renaissance era. Her instruments included recorders, gemshorns, krummhorns and the viola da gamba. She played for many years in the Moravian College Collegium Musicum. She was also a member of Cambiata, an early music quartet that played all around the Lehigh Valley for over twenty years and released three CDs.
Ilse had an incredible exuberance for life and all living things. She was an inspiration to those who knew her and will be dearly missed.
Online condolences for the family may be recorded on the website of Herron Funeral Home of Bethlehem, which is handling arrangements www.Herronfuneralhomes.com  A memorial service will be conducted at a time and place to be announced. In lieu of flowers, memorials may be made in memory of Ilse to UU Church of the Lehigh Valley, 1633 W. Elm St., Allentown, PA 18102; or to Lehigh Gap Nature Center, 8844 Paint Mill Rd., Slatington, PA 18080.