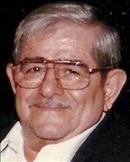 James Michael Zoumas, 85 of Bethlehem, PA died peacefully on December 29, 2015 surrounded by his loving family. Husband of Paraskevi (Mihalios) Zoumas they were married 56 years on November 22nd. James was born in Kambia, Chios, Greece, son of the late Michael Demetrios Zoumas and Kalliopi (Kapiris) Zoumas, and brother of the late Kyriaki Sedereas. After serving in the Greek Airforce he came to the United States in 1955 where he worked for his Godfather at Collins Restaurant in Bethlehem, PA. Later he opened his own establishments, North Bergen Catering and eventually the Twin Oaks Diner in Paramus, NJ. He loved his family, love to fish and loved to cook. Survivors: His wife Paraskevi; son Michael James Zoumas, husband of Christina of Arcadia, CA; daughter Kalliopi (Karen) Hahalis, wife of George of Saucon Valley, PA and son Konstandine George Zoumas, husband of David of Lebanon, NJ; eight grandchildren Melina and James Zoumas; Evangelia, Nicholas and Paraskevi Hahalis: Daniel, Perry and Evan Zoumas. Also survived by his sister-in-law Kyriaki Zoumas and numerous nieces and nephews.
Services: Funeral service on Monday January 4, 2016 at 11 AM in St. Nicholas Greek Orthodox Cathedral 1607 W. Union Blvd. in Bethlehem, PA 18018. There will be a viewing on Sunday, January 3, 2016 from 2 to 4PM and 6 to 9PM in the Cathedral. Burial in Cedar Hill Memorial Park Cemetery. Funeral arrangements are by the John F. Herron Funeral Home in Bethlehem, PA.
Contributions: In lieu of flowers donations may be sent to St. Nicholas Greek Orthodox Cathedral 1607 W. Union Blvd. in Bethlehem, PA 18018 or Greek Orthodox Church of the Ascension 101 Anderson Avenue, Fairview, NJ 07022.
12/29/2015