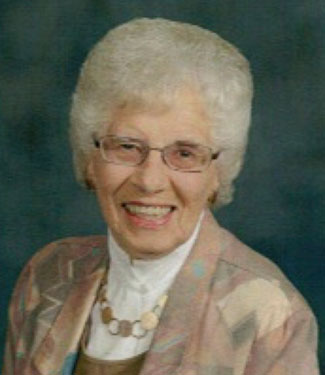 Janet L. Wolfe, 84 of Bethlehem, passed away on August 2, 2017 at Kirkland Village in Bethlehem.  She was the wife of the late Hobert C. Wolfe, Jr.  Janet was born in Bethlehem, on February 14, 1933, daughter of the late Chester and Marie Sames.  She graduated from Liberty High School in 1951 and earned a BS in Education in 1955 from Penn State.  Janet was an elementary school teacher in the Bethlehem Area School District before becoming a full-time mother and homemaker.  Janet was a member of Salem Lutheran Church in Bethlehem and was active in Tuesday Club. She enjoyed volunteering at the gift shops at Westminster and Kirkland Villages in Bethlehem, spending time with friends and playing pinochle.
Survivors: Son, Steven C. Wolfe and wife Sally of Bethlehem and two granddaughters, Keri of Houston, TX and Katie of Flagstaff, AZ.
Service:  Calling hour on Monday August 7, 2017 at 11AM followed by service at 12 noon in the John F. Herron Funeral Home 458 Center at Market Street in Bethlehem.  Burial in Bethlehem Memorial Park Cemetery.
Contributions:  In lieu of flowers, contributions may be made to Penn State THON or Best Friends Animal Society, to honor her love of dogs; all in care of the Funeral Home.