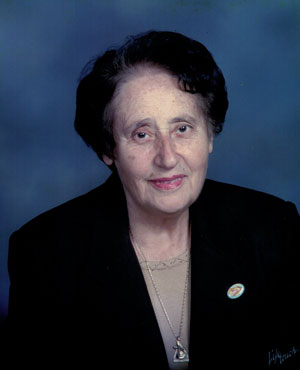 Katina Kourpas, 85 of Bethlehem died on July 20, 2017 at home surrounded by her loving family.  Katina was the wife of Theordore Kourpas for 57 years.
Katina was born on March 6, 1932 in Neochorion, Chios, Greece daughter of the late George and Maria (Tsikinas) Bahas.
Katina married her husband Theodore in August of 1960, came to American in 1961 and they were the owner's of Pete's Hotdog in Bethlehem for many years.  Katina and Theodore were gracious hosts always opening their home to visitors, to entertain their guests and to welcome new people to their community.
She was an active member of St. Nicholas Greek Orthodox Cathedral in Bethlehem.
Katina was a member of the Ladies Philoptochos, Senior Citizens and worked tirelessly at the Church Bazaars making Loukoumades.   Katina was honored at the Annual St. Nicholas Banquet for her Outstanding Dedication to St. Nicholas Greek orthodox Cathedral.
Survivors:  Her husband Theodore, son Demetrios (Jim), grandchildren Theodore and Katina.
Service:  Funeral Service on Monday July 24, 2017 at 11 AM, viewing 10 AM to 11 Am in St. Nicholas Greek Orthodox Cathedral 1607 West Union Blvd, Bethlehem. Funeral arrangements are by the John F. Herron Funeral Home in Bethlehem.
Contributions: To the Ladies Philoptochos of the Cathedral, St. Luke's Excellence in Cancer Care Fund, c/o Development Office 801 Ostrum Street Bethlehem, PA  18015 Bethlehem or to American Heart Association-Go Red For Women 212 East Broad Street Bethlehem, PA  18018.