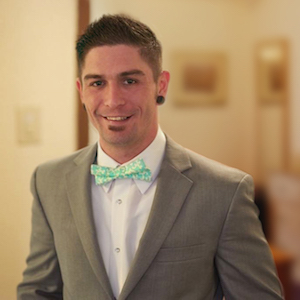 Jason M. Artim, 33 of Bethlehem, died on Tuesday July 18, 2017.   Jason was born in Allentown, son of James M. Artim of Bethlehem and the late Deborah (Kuzma) Artim.
Jason was a chef at Apollo Grill in Bethlehem.  He enjoyed cooking and thrived in the kitchen. Food was his passion, calling, and career.  It brought him great joy to share his love of food with family and friends.
He was a member of NA and found himself drawn to helping others with their fight.  Jason's journey was filled with love and encouragement from many, especially from his partner Jamie Romero. That journey recently brought Jason back to the church of St. Michael's, where he found an accepting and loving church family with whom he shared his faith.
Survivors:  His father, best friend and hero Jim, and his caring stepmom DeAnn, loving and supportive sister, Lindsey Walters wife of Amber, and brother Jordan; Paternal grandmother Agatha (Kovalick) Artim,  3 step sisters Kathryn, Lauren, and Grace Martin, and lastly, the light of his life, 3 year old niece, Emma Grace Martin.
Service: A Funeral Mass will be held  on Saturday July 29, 2017 at 10:00 a.m. in St. Michael the Archangel Byzantine Catholic Church, 156 Green St. Allentown, PA. http://byzcath.org/allentown/.  Burial to follow in Holy Saviour Cemetery, 2575 Linden St., Bethlehem, PA.
At the request of the family, all are invited to a Celebration of Life which will be held at Kemerer Museum of Decorative Arts, 427 N. New Street, Bethlehem, PA,  from 4:30-6:30 p.m.  https://historicbethlehem.org/?historic-site=kemerer-museum-of-decorative-arts
Contributions:  In lieu of flowers the family would appreciate contributions in Jason's memory to help those suffering from addictions  to Steven's Place, http://www.stephens-place.org/donate/, or to the Artim family in care of Herron Funeral Home.