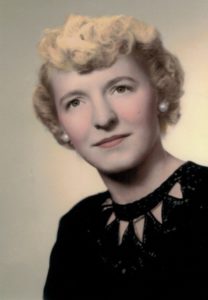 Jean Rae Hassler, 86 of Allentown passed away on January 3, 2019 surrounded by her loving family at Lehigh Valley Hospital-Cedar Crest. Jean was the wife of Bruce Hassler for 47 years until his passing in 2002.
Jean was born in Delphi, PA on November 3, 1932, daughter of the late Raymond C. and Marjorie A. (Shelhammer) White.
Jean was a Para Professional in the Allentown School District from 1976 to 1995 and later was involved with H.A.P.P.Y, for five years.
Jean was a member of Grace UCC in Allentown, active in the Ladies Auxiliary, Women of Grace visiting homebound members and was a greeter at the church.
Survivors: Sons James Lee Hassler and Mark Raymond Hassler, daughters Tammie Lee Caruso wife of Carl and Cathy Lee Serfass wife of Ronald, grandson Brett Raymond Knerr husband of April and great-grandson Declan Knerr. Predeceased by a daughter Gail A. Marks, twins David and Debra Hassler and a pre-term Baby.
Service: Memorial Service will be announced by, Grace UCC –Allentown. Funeral arrangements are by the Sell-Herron Funeral Home 1145 Lehigh Street Allentown.
Contributions: In lieu of flowers to Grace UCC 623 Cleveland Street Allentown, PA 18103.