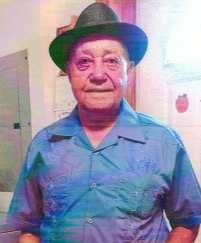 Jesus M. Solivan, 97, of Bethlehem, passed away peacefully surrounded by his family on March 23, 2019. He was the husband of the late Isabel C. Solivan who passed away on November 6, 2012.
Jesus was born in Arroyo, Puerto Rico on May 26, 1921, son of the late Pedro Solivan Vasquez and Clementine Melendez.
He worked for the City of Bethlehem Water Department for over 20 years.
Jesus was known for his good heart, generosity and helpful nature to everyone. He loved working in his garden and enjoyed giving vegetables he grew away to his friends and family. He loved visiting the casino. Jesus was proud to be an instrumental person helping Mayor Mower's campaign with the Hispanic vote. He was a member of Holy Infancy Roman Catholic Church and a part of their Holy Name Society. As a testament to his generosity and helpful nature, Jesus always encouraged others to contribute to St. Jude's Hospital for Children.
Survivors: Sons Julio and wife Marta, Pedro and wife Marta, Ricardo and his wife Alexandra and George and wife Maria; daughters Rosa Rivera and husband Jose Luis, Auria Alicea and husband Felix Juan and Sonia Solivan and her companion Luciano Rosado; sister Virginia Colon; twenty two grandchildren and many great grandchildren. He was predeceased by a great grandson, Lucas.
Service: Viewing on Wednesday, March 27th from 6-8PM and on Thursday, March 28th from 9-9:45AM with a service at 10AM in the John F. Herron Funeral Home, 458 Center and Market Streets, Bethlehem, PA 18018. Burial to follow at Holy Saviour Cemetery, Bethlehem.