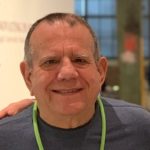 John S. Yartymyk, 73 of Bethlehem died on Sunday January 26, 2020 at Lehigh Valley Hospital-Muhlenberg. Husband of Kay (Apotsos) Yartymyk for 37 years until her death on August 15, 2006.
John was born on March 8, 1946 in Allentown son of the late John and Stephanny (Bednarchek) Yartymyk.
John graduated from Liberty High School in 1964.
He worked as a laborer at the Bethlehem Steel Company and later at Dillon Floral Company. He was a member of the United Steelworkers of America.
He was a member of St. Nicholas Greek Orthodox Cathedral in Bethlehem and a member of the Seniors.
John enjoyed riding his bike on the Bethlehem Tow Path, gardening, coffee at WAWA and Giant. John loved his family especially his grandchildren , he never missed their games or school performances.
Survivors: His daughter Christine Y. Rinker and husband Matthew of Bethlehem, son Michael Yartymyk and wife Heather of Macungie; sister Susan Krasnai and husband Edward of Mount Joy; grandchildren Nicholas and Eleah Rinker, Benjamin and Gavin Yartymyk; sisters-in-Law Diamond Geiger, wife of Dennis of Kutztown and Mary Valianatos, wife of Anastasios of Bethlehem, brother-in-law George Apotsos and partner David DiGiacobbe of Yardley and many nieces and nephews.
Predeceased by a brother L/CPL Michael H. Yartymyk, sister-in law Georgia and brother-in- law Frank Sebastionelli.
Services: There will be a viewing on Wednesday January 29th from 6PM to 8PM with a Trisagion Service at 7:30PM in the John F. Herron Funeral Home 458 Center At Market Street Bethlehem. Funeral Service on Thursday January 29th at 1PM with a viewing from 12noon to 1PM in St. Nicholas Greek Orthodox Cathedral 1607 W. Union Blvd. Bethlehem. Burial in Cedar Hill Memorial Park, Allentown.
www.Herronfuneralhomes.com.
Contributions: Family House, Inc. 5001 Baum Blvd, Ste 545, Pittsburgh, PA 15213.