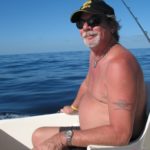 Joseph J. Hanzl, III, 66 of Bethlehem died on January 12, 2020 at St. Luke's Hospital-Fountain Hill. Husband of Donna Hanzl, they would have been married 35 years on October 7th.
Joseph was born in Allentown on August 2, 1953, son of Rose (Bendekovitz) Hanzl and the late Joseph J. Hanzl, Jr.
Joseph worked at the Bethlehem Steel for 25 years and was a lifetime member of the Rosemont Fire Company and Petersville Rod and Gun Club. He was an avid outdoorsman with a fondness for nature and great respect for wildlife, both big and small. Some of his favorite pastimes included deer hunting with his father and friends, boating and camping with his family, vacationing lakeside, drinking banana pina coladas and handing out $2 bills in Mexico, and spending countless hours seated at his favorite fishing holes. In recent years, as illness kept him indoors, he found his greatest pleasures in relaxing in his yard with his dog at his side, watching the hummingbirds buzz around the flowers his wife so carefully arranged, and watching his grandchildren play at his feet.
Despite unfavorable odds, Joseph fought with every breath he had to overcome countless obstacles to be here with his family and friends, and we are forever grateful for his courage, his love, and the memories he's given us. …. And that's no fish story
Survivors: Mother Rose, wife Donna, daughter Danielle Yanchuk, wife of Shaun and son James McCafferty-Hanzl husband of Emily Cuevas McCafferty-Hanzl, sister Diane Steiner wife of Bryon, brothers James husband of Lynette and John husband of Joyce, two grandchildren Cash (5 years) and Austin (11 months).
Service: Funeral Service on Friday January 17, 2020 at 11 AM, with a viewing on Thursday evening from 6PM to 8PM and Friday morning 10AM to 11AM all in the John F. Herron Funeral Home 458 Center Street Bethlehem. www.Herronfuneralhomes.com.