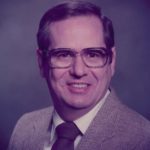 Chester R. "Chet" Conrad, 83, left his earthly home and was welcomed into his eternal, heavenly home on Saturday, January 11, 2020, surrounded by his loving family and the caring Hospice staff at Lehigh Valley Hospital-Cedar Crest. Chet was the devoted husband of Shirley M. (Orem) Conrad. The couple shared their lives in marriage for 63 years, and would have celebrated their 64th anniversary on April 28th.
Chet was a native of Allentown, born on November 28, 1936, the youngest son and child of the late Chester A. and Mayme Helen (Kocher) Conrad.
After graduating from Allentown High School in 1954, Chet worked for several years at Everson Electric Company and the Lehigh Valley Dairy before working for over 26 years as an electrician at Bethlehem Steel Corporation, retiring in 1995. For many years, he also owned and operated his own home improvement business. His work at the companies who employed him and for homeowners was always top-notch. He always said, "Measure twice, cut once". He was in constant demand for remodeling work at the homes of neighbors, friends and family.
A quiet man of deep faith, Chet lived a life of service to others and set a fine example for all to follow. For over 40 years, Chet and Shirley were active members of the former Grace Lutheran Church on Allentown's south side. There, Chet served in a variety of capacities as a member and President of Church Council, member and Chair of the Property Committee and teacher/helper with the After-school and Summer Feeding Programs the church provided for neighborhood children. In 2008, Chet and Shirley became members of St. Timothy Lutheran Church in west Allentown. Again, Chet became an active member, working with the Property Committee on many large and small projects well into his retirement years, up until the time of his passing.
In addition to his community involvement through the church, Chet coached softball for his granddaughters and many other girls at Union Terrace Athletic Club and Coplay Sports for several years. The girls affectionately called him "Coach Pop Pop".
Beyond his life-long church and community involvement, faith and family were the two most important parts of Chet's life and what he lived for. He was a wise and caring husband, father, grandfather, great-grandfather, father-in-law, uncle, brother, cousin, friend, confidant, mentor, teacher, coach, volunteer, and the list goes on and on in the vivid memories of all whose lives he touched in so many ways. Steady as a rock, Chet was always a willing listener, with an impish sense of humor. In short, he truly was a good man. He will be dearly missed.
Survivors: Loving wife Shirley, son Donald Edward Conrad, D.O., husband of Mindy Minnich Conrad, daughters Lynne Susan Focht, wife of Richard of Allentown, Gail Louise Hamm, wife of Richard of Orefield; brother George Conrad of Newtown, PA; sisters Lorraine Gentile of Bethlehem, and Gloria Martin of Macungie; three grandchildren Erica Simmons, Casey Conrad, and Kristen Focht; and great-granddaughter Reagan Simmons, and many nieces and nephews. Chet was pre-deceased by siblings, Ruth, Harold, Jack and Raymond.
Service: A Celebration of Chet's Life will be held on Monday, March 9, 2020, at 10:30AM, with a calling hour from 9:30AM-10:30AM at St. Timothy Lutheran Church, 140 South Ott Street, Allentown, PA 18104. Funeral arrangements are by Sell-Herron Funeral Home, Allentown. www.Herronfuneralhomes.com.
Contributions: In lieu of flowers, contributions may be made in Chet's memory to the "Turn Up the Heat" fund at St. Timothy Lutheran Church.