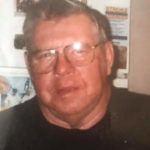 William H. Erney, 85 of Bethlehem Twp. died on January 10, 2020 at St. Luke's Hospital-Anderson Campus in Easton. He was the husband of the late, Emily (Oscavich) Erney who died in 1994.
Bill was born in Quakertown on October 8, 1934 son of the late Orlando and Emma (Oswald) Erney.
Bill was the owner of William Erney Roofing for over 65 years. He worked at the Bethlehem Steel Company in the Ingot and Mold Department.
Survivors: Son William Henry Erney, Jr., daughters Elaine Hahn (John), Virginia Pappas, Janice Gostony, Lois Neith(Thomas) and Lori Orner, former son in law and faithful worker Kevin Jones; sisters Edna and Betty; 17 grandchildren and 29 great-grandchildren. Predeceased by a son Anthony, grandson Bob, companion Rose Marie Severn, sisters Loretta, Irene, Gladys, Ruth, Mabel and brothers LeRoy, Marshall, Roland and Paul.
Service: Time of Remembrance on Wednesday January 15th at 11 AM with a viewing on Tuesday evening from 6PM to 8PM and Wednesday from 10AM to 11 AM in the John F. Herron Funeral Home 458 Center Street Bethlehem. Burial in the Union Cemetery of Hellertown. www.Herronfuneralhomes.com.