Josephine "Dodie" Grace Massey Henry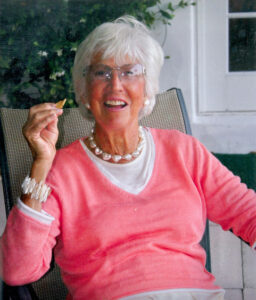 Josephine "Dodie" Grace Massey Henry, surrounded by family, passed away at her home in Dorset, VT on Thursday January 6th, 2022. Dodie was 100 years Old. She was born on April 4th, 1921, in Bethlehem, PA to Parents John Wesley Grace and Clara Lockwood Grace. She grew up in Bethlehem, PA, attended the Moravian Seminary School and then The Westover School, Middlebury, CT class of 1939.
After graduating from Westover, Dodie worked for Laura Gross of Bethlehem and Washington DC. She then moved to New York City and worked for the Vice President of Pan American Airlines in the public relations department.
Dodie married John Massey of New York City, a young salesman for the Bethlehem Steel Company on April 30,1949. They moved to Grosse Pointe, Michigan where John became head of sales for the Bethlehem Steel Company's Detroit Office. It was there that they started their young family raising Deborah "Debbie" Ann Massey,  John Grace Massey and Peter Massey.
In 1960, the Masseys moved to Winnetka, Illinois. John, working for Bethlehem Steel, would soon become the head of the company's Chicago Office, which covered the entire Midwest sales district. The family cherished their years in the Chicago area. Dodie became active in many community and civic organizations. She was a member of Christ Church of Winnetka and The North Shore County Day School Parents Association, plus many other charitable causes.
They were also avid golfers and members of Shore Acres Country Club. They also enjoyed their yearly family vacations to Cape Cod. It was also during this time, that Dodie introduced the family to skiing. Led by Dodie, the family became enthusiastic skiers and loved the sport.
Locally they skied in Wisconsin and the Upper Peninsula of Michigan. Soon however, Dodie discovered Colorado skiing. The family skied in the early years of Winter Park and Vail and for many years these Colorado trips were treasured by the entire family.
In 1996, the family moved from Winnetka back to her hometown of Bethlehem, PA. John had been promoted to assistant VP of sales. He would eventually retire from the Steel Company as Vice President. During this period, community service, golf and skiing continued, and their daughter Debbie cultivated what would become an acclaimed career as a champion woman golfer on the LPGA tour. They were long time members of Saucon Valley Country Club. It was also during this time that John and Dodie purchased a small ski house in Dorset, VT. The family fell in love with Vermont. Dodie and John became members of The Ekwanok Country Club in Manchester, VT where Dodie remained a member until her passing.
Her beloved husband John passed away in October 1985. Dodie eventually moved permanently to Dorset, VT. It was there she met and married Roderick "Huck" Henry of Montreal, Quebec. Together they spent time between Dorset, where Huck would become President of The Ekwanok Country Club, Vermont, and The Lost Tree Club Palm Beach Gardens, Florida. Huck Passed away in April 2018. Dodie and Huck were happily married for 28 loving and wonderful years.
Dodie is survived by her three children Debbie Massey of Port Charlotte, Fl, John G. Massey of Rowayton, CT and Peter Massey of Westport, CT; beloved grandchildren Jack, Sam, Olivia and Charlotte; daughters-in-law Pam, Lynnand Pamela; stepdaughters from her marriage to Huck, Willa Henry of Kingston, Ontario, Diana Henry of Montreal, Quebec and Jane Henry of Toronto, Ontario and nine step grandchildren.
The family will gather in Bethlehem, PA February 5th, 2022, to celebrate and honor the wonderful life of our amazing and loving Mother, friend, and Matriarch. She was loved by all and will be greatly missed. A donation canbe made in her memory to the Ekwanok Scholarship Trust.  Funeral arrangements by the Herron Funeral Home in Bethlehem, www.Herronfuneralhomes.com