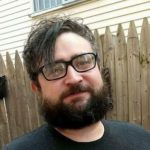 Joshua M. Raddock, 35 of Bethlehem died on May 8, 2018.He was born in Philadelphia on June 18, 1982, son of the late Deborah Raddock.Joshua was a truly unique person. Every person who ever met Joshua remembered him well. He was extremely funny, creative, intelligent, talented, and most of all caring and loving.br/He was also an amazingly talented musician and artist that loved being creative. He was purely creative in every sense of the word and dedicated his entire life to perfecting his craft. He had huge dreams.Josh did not have any biological family when he passed. However, when he came to Narcotics Anonymous and met the people now closest to him, he instantly had a family. He finally found a place where he belonged. Josh was clean but still struggled with his addiction and his demons and died after making one bad decision, which is, unfortunately, all it takes.
Service: Time of Remembrance on Saturday, June 9th at 3PM in the John F. Herron Funeral Home, 458 Center Street, Bethlehem. Interment to follow at Green Meadow at Fountain Hill Cemetery, Bethlehem, PA.
Contributions: To the John F. Herron Funeral Home. Contributions will be distributed in Josh's name to help those in recovery.