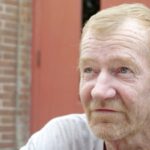 Michael Rappe, 64, of Bethlehem, died on May 5, 2018 in his home.
He was born on February 10, 1953 in Lowell, MA, son of the late Eugene Leo and Patricia (Brennan) Rappe.
Mike was an avid reader whose most prized possession was his library card. A lover of nature and helper in his community of friends, he will be missed.
Survivors: His sisters Patricia Spurr and Theresa Fagan and their families as well as his long time friends, street neighbors and those in homeless shelters in Bethlehem.
Service: Memorial Service, Tuesday, May 15th at 1:30PM, Christ UCC in the Gathering Place, Center at Market St., Bethlehem. Internment to follow in the Memorial Garden of Trinity Episcopal Church in Bethlehem. Arrangements by John F. Herron Funeral Home and Herron Crematory, 458 Center St., Bethlehem.
Contributions: Bethlehem Emergency Shelter, 1021 Center St., Bethlehem, PA 18018 or Street Medicine, Lehigh Valley Hospital, PO Box 689, Allentown, PA 18105