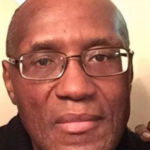 Keith L. Sampson, 62 of Brooklyn, New York died on January 28, 2017 at St. Luke's Hospital in Allentown. The husband of Ingrid E. (Dorsett) Sampson they would have been married 35 years on June 20th, 2017.
Keith was born in Glamorgan, Tobago on March 15, 1954, son of Samuel Sampson and Merlyn Kennedy.
He was an accountant for the City of New York for many years.
Survivors: His wife Ingrid, daughters Charlene Niles, Jenice and Keisha Sampson; son-in-law Adrian Niles, brothers Cliff Kennedy, Doyle Delancey and Noel Sampson; sisters Jacqueline Hewitt and Vera Crick; grandchildren, Tiyana Jamerson, Mariah Peterson and Jaeden Peterson.
Service: There will be a viewing on Wednesday from 6PM to 7 PM followed by a service at 7 PM in the Sell-Herron Funeral Home 1145 Lehigh Street Allentown. Burial in Cedar Hill Memorial Park Cemetery in Allentown.
Funeral Service on Thursday February 2, 2017 at 11 AM in the Seventh Day Adventist Church at 2140 Tilghman Street in Allentown, with a viewing from 10 AM to 11 AM in the Church.