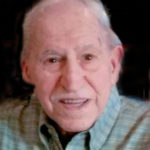 Dennis Daniel "Danny" Douvanis, 92 of Bethlehem died on January 26, 2017 at home surrounded by his family. Husband of the late Rose M. (Assad) Douvanis who died on January 7, 1999.
Danny was born in Newark, NJ on April 11, 1924, son of the late Gus and Nellie (Delgrosso) Douvanis.
He was a Staff Sargeant in the US Army during World War II where he was a Sharp Shooter. Danny was awarded the European African Middle Eastern Service Medal with 5 bronze stars and a Purple Heart for his combat during the Battle of the Bulge and Normandy. He also received a Good Conduct Medal and a World War II Victory Medal.
He was the warehouse manager at Banko Beverage for 37 years retiring in 1986.
He was Coach for Lehigh Little League, was an avid bowler, member of UNICO and active with his wife Rose who was the Founder and President of the Philadelphia Flyers Lehigh Valley Fan Club.
Danny was a life member of the Order of Ahepa, Homer Chapter 65 in Bethlehem and a life member of the Fullerton American Legion. He was also a member of the Goodfellows, the Regularfellows and the Oddfellows.
Survivors: His daughter Gail M. Pizzino wife of Salvatore R. of Bethlehem, a son Dennis A. Douvanis husband of Phyllis of Bethlehem, four grandchildren Nicholas and Danielle Pizzino and Elena and Dennis James "DJ" Douvanis and his brother James Douvanis of Bethlehem. Predeceased by a brother Socrates Douvanis, sisters Mary Bonomo and Helen Churilla.
Service: Ahepa Service on Wednesday February 1, 2017 at 7:30 PM followed by a Time of Remembrance by his family in the John F. Herron Funeral Home 458 Center At Market Street in Bethlehem. Calling hours on Wednesday evening from 6PM to 7:30PM in the Herron Funeral Home.
Contributions: In his memory to the American Cancer Society.