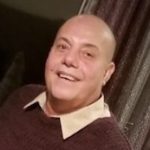 Luis A. Ramos, 58 of Bethlehem, died on September 16, 2019 at St. Luke's Hospital.
Luis was born in Ciales, Puerto Rico on September 22, 1960, to the late Mateo Ramos and Isabel Vargas.
Survivors: Son Luis Ramos and daughter Yassenia Ramos; wife Carmen Ramos; sisters Sonia Ramos, Lillian Ramos, Elsa Ramos and brothers Mateo Ramos, Jr., George Ramos, Edwin Ramos, Javier Ramos and grandkids Luis Ramos, Jr., Julius Sanchez, Olivia Hernandez, Isabella Ramos and Sammy Hernandez, Jr.
Service: Viewing on Sunday, September 22nd from 6-8PM at the John F. Herron Funeral Home, 458 Center St., Bethlehem. Funeral Mass on Monday, September 23rd at 10AM at Holy Infancy 312 E. 4th St., Bethlehem. Burial to follow at Holy Saviour Cemetery. www.Herronfuneralhomes.com.
Contributions: To the family c/o the Funeral Home.