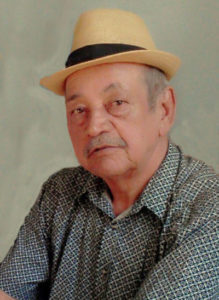 Luis Fontanez, 80 of Bethlehem passed away on May 14 by at his home surrounded by his family.
Luis was born in Corozal, Puerto Rico on May 15, 1939, son of the late Francisco  Fontanez Rivera and Cristina (Rolon) Martinez.
He was a member  of Holy Infancy Catholic Church in Bethlehem.
Survivors: Son Edwin Fontanez, daughters Migdalia Saez, Wanda Fontanez, Mary Christina Fontanez, eight grandchildren, many brothers, sisters, nieces and nephews and cousins.  Predeceased by a son Luis A. Fontanez.
Viewing: Drive Thru viewing on Tuesday May 19, 2020 from 5PM to 7 PM using the Center Street Entrance of the John F. Herron Funeral Home 458 Center Street Bethlehem.  Private Burial in Bethlehem Memorial Park Cemetery.  www.Herronfuneralhomes.com .