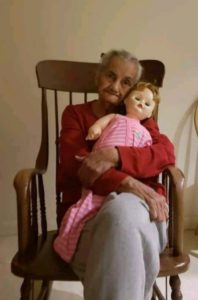 Mariana Gonzalez, 87 of Bethlehem passed away on January 24, 2021 at home surrounded by her family. She was the wife of the late Hector Montanez Ortiz.
Mariana was born in Rio Piedras, Puerto Rico on July 25, 1933, daughter of Petra Ramos Bonilla.
She was of the Catholic Faith.
Survivors: Son Hector Ayala, daughters Maria Ayala, Sandra Ayala, Maritza Ayala, Milagros Vazquez and Sheila Reyes; brother Eddie Olivo, many grandchildren and great-grandchildren.
Viewing & Service: Thursday January 28, 2021 from 11AM to 12 noon followed by the Funeral Service at 12 noon all at the Herron Funeral Home 458 Center Street Bethlehem, PA 18018. Burial in Nisky Hill Cemetery in Bethlehem.
Mama, quiero agradeserte que estuvistes en mi vida cada momento.
Pude contar contigo en momento mas dificiles.
Contigo pude compartir mis alegrias y mis preocupaciones.
Que fuiste mi Mama y mi mejor amiga fue el mas apresiado tesoro
que siempre le agradesere a dios eternamente.
Voy a estrañar tu voz, tu sunrisa, toda tu presencia.
Pero ya no sufres mas.
Te amo Mama.
The strongest woman I ever had in my life.
My best friend, my rock, my
Wonder woman.