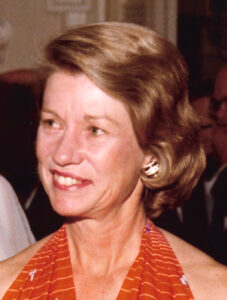 Mary Rankin Trautlein, 91 of Bethlehem passed away at Kirkland Village of Bethlehem on March 16, 2022. Mary was the wife of Donald H. Trautlein for 54 years until his passing on July 2, 2010. Mary was born in Elizabeth, NJ on August 16, 1930, daughter of the late William and Sarah (Wilkinson) Rankin. Mary was a member of The Cathedral Church of the Nativity in Bethlehem.
Mary's maternal aunts, Thelma Joseph and Edna Hauenstein, doted on Mary (and eventually her children).
Mary spent parts of her childhood in Chile and Venezuela where her father William helped develop Bethlehem Steel's mining division. After returning to Bethlehem, Mary graduated from Liberty High School in Bethlehem after pitching for the school's softball team.
Mary graduated from Wells College in 1953 then moved to New York City where she worked as a secretary for Harper and Brothers Publishing. A blind date, arranged by a classmate, brought Mary Rankin and Donald Trautlein together. Donald's unassuming manner, wry sense of humor and infectious piano playing proved irresistible. After their marriage in 1956, the couple moved to Darien, CT where they raised three children.
Mary spent most of her time focused on her family. She enjoyed playing tennis and swimming at the Tokeneke Club and organized many family vacations to skiing and sailing destinations. She was active with the Junior League, Children's Workshop and Lockwood Mathews mansion. Mary built relationships with other families that lasted her entire life.
In 1976, the family moved to a gentleman's farm in Bucks County. Mary created gardens and helped manage the orchards. She learned to fly and raised numerous beloved pets. She volunteered her skills to The Kemerer Museum and Historic Bethlehem. Mary accompanied Donald on many business trips around the world. The couple also enjoyed attending opera, philharmonic and theater performances.
Mary and Donald eventually moved to North New Street in Bethlehem. Mary and Donald were thrilled with the arrival of grandchildren and many fantastic family vacations that followed. The couple continued to enjoy their visits to Saucon Valley Country Club and were privileged with many friendships.
Mary moved with Donald into Moravian Hall Square as his health deteriorated. After Donald's passing, Mary moved to Kirkland Village and continued her pursuit of life interests. The family wishes to extend their deepest gratitude to the many people at Kirkland Village who cared for Mary.
Survivors: Sons John and James, daughter Katherine and four grandchildren.
Services:  Private funeral arrangements by the Herron Funeral Home in Bethlehem. www.Herronfuneralhomes.com
Contributions: In lieu of flowers, the family asks Mary's friends to send gifts to The Cathedral Church of the Nativity in Bethlehem.