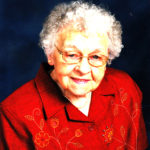 Mary Szmodis, 97, of Bethlehem died on November 7, 2016 at the Inpatient Hospice Unit of Lehigh Valley Hospital. Mary was the widow of the late Louis Szmodis, Sr.
She was born in Bethlehem, daughter of the late Frank and Irma (Banko) Pecsek.
Mary was a graduate of Liberty High School, Class of 1936.
She was a lifelong member of St. John's Windish Lutheran Church in Bethlehem serving as a Sunday School Teacher and a member of the Altar Society.
Mary was a Charter Member of the Young Matrons Club of the YWCA, which was established in 1942; she remained active for over 50 years.
She was a homemaker and remained dedicated to her entire family throughout her life. She enjoyed watching sports on TV, and was an avid fan of the Phillies and all Penn State sports.
Survivors: Her sons Roger and Louis, Jr., husband of Joan, all of Bethlehem; sister of Helen P. Ballek of Williams Township; two grandchildren, Michael and Whitney, wife of Deacon; three great grandchildren Ben, Mia and Ava; and numerous nieces and nephews. Brother Joseph Pecsek and sister Irene Zelko preceded her in death.
Service: Memorial service will be on Tuesday, November 22, 2016 at 11AM in the John F. Herron Funeral Home 458 Center At Market Street in Bethlehem. There will be a calling from 10AM to 11AM in the Funeral Home. Graveside service will follow in Bethlehem Memorial Park Cemetery (family only please).
Contributions: In lieu of flowers to St. John's Windish Lutheran Church 617 E. 4th Street Bethlehem, PA 18015, Lehigh Valley Hospice 2024 Lehigh Street Allentown, PA 18103 or to the charity of your choice.