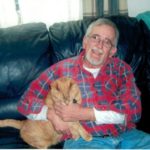 Gary N. Vosler, 63 of Allentown passed away on November 11, 2016 at Lehigh Valley Hospital-Cedar Crest. He was the love of his longtime companion, Georgette Schweyer for 14 years.
Born in Greenville, PA to Tina (Volbrecht) Gill and the late Neal Vosler, Gary was the owner of Vosler Painting for many years.  Gary was happiest while enjoying the outdoors, as he was an avid gardener and fisherman and shared those joys with his two grandchildren.
His silly humor, warmth and love will be missed by his family.
Survivors: His companion Georgette Schweyer, her son Peter Schweyer husband of Jennifer and their children Sarah and Erin all of Allentown; sister Karen Ruhlman of Miramar Beach, Florida; 3 nieces; stepmother Shirley Vosler of Greenville, PA and stepfather Roger Gill of Warren, PA.   He was preceded in death, by his brother Keith Vosler.
Service:   A Celebration of Gary's Life will be held on Saturday November 19, 2016 from 2 PM to 3:30 PM in the Sell-Herron Funeral Home 1145 Lehigh Street Allentown.
Contributions:   In his memory to an Animal Charity of Your Choice.