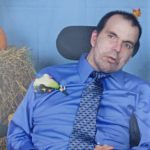 Michael E. Snyder, 51 of Bethlehem died on January 26, 2018 at Lehigh Valley Hospital-Muhlenberg.
Michael was born in Allentown on April 16, 1966, son of Betty (Weber) Snyder of Whitehall and the late Edward M. Snyder.
Michael graduated from William Allen High School in 1984.
He was a tree climber and tree trimmer for JAFLO.
Survivors: He is survived by his mother Betty and a son Michael E. Snyder of Portland, Oregon. Predeceased by sisters Sandra Snyder, Brenda Snyder and Denise Stinson.
Service: Private at the convenience of the family. Funeral arrangements are by the Sell-Herron Funeral Home and Herron Crematory in Allentown.
Contributions: To Good Shepherd Home, Bethlehem c/o Development Office 850 S. 5th Street, Allentown, PA 18103