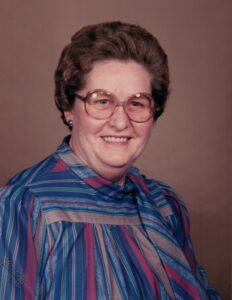 Mona L. Koder, 92 of Allentown passed away on July 2, 2022 at  the Bethlehem Manor.  She was the wife of Harold F. Koder for 58 years until his passing on July 9, 2010.
Born in in Allentown on August 30, 1929 daughter of the late Warren and Edith (Flores) Ritter.
Mona was a telephone operator for AT&T retiring after 37 years.
She was a member of the Telephone Pioneers.
Mona was a member of St. Peter's Lutheran Church in Allentown.
Survivors:   Son Randall J. Koder and wife Mary G. of Hellertown; Two Grandsons Randall J. Koder, Jr.  and Jeffrey Koder and wife Amy;  great-granddaughter Emily Koder.  Predeceased by many brothers and sisters.
Services: Private at the convenience of the family, funeral arrangements by the Sell-Herron Funeral Home in Allentown.
Contributions:  American Diabetes Association.