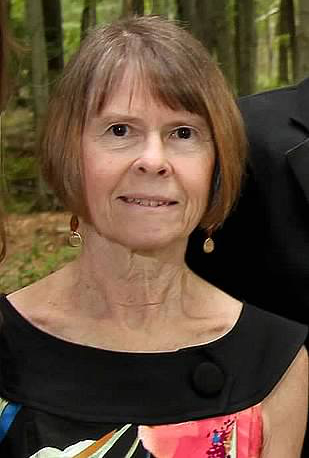 Nancy (Snyder) Zalatan, 75, of Allentown, Pennsylvania passed away peacefully in the early morning hours of Sunday, December 26, 2021. Her final days were spent in the presence of her loving daughters. Born in Utica, New York on February 4, 1946, Nancy was the youngest child of the late William Joseph and Evelyn Eleanor (Kapfer) Snyder.
Nancy was especially close with her sister Joyce, with whom she shared a birthday, 20 years apart. She was a favorite babysitter and cherished aunt to all her nieces and nephews. Nancy's greatest joys growing up included time spent with family at lakes in the Adirondacks swimming, boating, and tanning.
Nancy graduated from Utica Free Academy in 1964 and Mohawk Valley Community College in 1966. Nancy married Joseph Zalatan on December 30, 1967, had two daughters, and subsequently moved to Pennsylvania. Once her daughters were in school, Nancy returned to the workforce. Over the years, she worked as an administrative assistant for several realtors, a building company, and a self-storage facility.
Nancy's hobbies included bowling, bridge, and golf as a member of the Coterie Club of Allentown. She was a member of St. Joseph the Worker Church in Orefield and involved in their Women's Guild. Nancy enjoyed shopping, going out to eat, and dancing with her friends. She also loved relaxing at the beach and visiting lighthouses.
She will be fondly remembered by her two daughters Laura Zalatan Corcoran (Bridget Corcoran) of Bethlehem and Deborah Zalatan Arey (Chad Menichini) of Germansville; three grandchildren Catherine (Ross) MacConnell, Cassandra Hartzell, and Giuseppina (Alex) Corcoran-Michaels; two great grandchildren Eleanor and Harold with a third expected in March; former husband Joseph Zalatan; sister-in-law Barbara Snyder; and numerous nieces and nephews. She was predeceased by sisters Betty (Gilbert) Jones, Joyce (James) Mulvihill; brothers William (Patricia) Snyder, Gerald Snyder, and Thomas Snyder; and mother-in-law Antoinette Zalatan.
Friends may consider donating to Alzheimer's Association in her memory. Relatives and friends are invited to celebrate a funeral mass for Nancy on Saturday January 22nd at 10:00 a.m. at Mary, Mother of Our Savior Parish (formerly Our Lady of Lourdes), 2222 Genesee Street, Utica, NY, followed by burial at Mount Olivet Cemetery in Whitesboro, NY. A celebration of life will be held in Pennsylvania at a later date. Arrangements made by Herron Funeral Home, Bethlehem, PA (www.herronfuneralhomes.com).