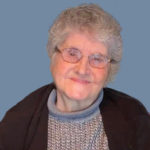 Paraskevi Zoumas, 90 of Bethlehem, passed away on March 29, 2021 surrounded by her family.  She was the wife of James Zoumas for 56 years until he passed on December 29, 2015.
Paraskevi was born in Kambia, Chios, Greece on April 20, 1930 daughter of the late Konstantine and Kalliopi (Zoumas) Mihalios.
She worked at North Bergen Catering and Luncheonette which was owned by her husband James.  Earlier she was a Nurse Practitioner and Midwife in Greece.
Paraskevi was a faithful member of St. Nicholas Greek Orthodox Cathedral in Bethlehem.
Survivors: Her children Michael James Zoumas, husband of Christina of Arcadia, CA , Kalliopi  Hahalis, wife of George of Saucon Valley; and  Konstadine George Zoumas, husband of David Izzi of Tewksbury, NJ;  eight grandchildren Melina and James Zoumas, Evangelia, Nicholas and Paraskevi Hahalis  and Daniel, Perry and Evan Zoumas; sister Kay Zoumas of Wading River, LI,NY, also survived by many nieces and nephews.  Predeceased by a brother John, sisters Sophia, Stamatia and Maria.
Viewing & Service:   on Saturday April 3, 2021, viewing 10AM-11AM, service at 11AM in St. Nicholas Greek Orthodox Cathedral 1607 W. Union Blvd. in Bethlehem, the Cathedral.   The funeral  service will be livestreamed using the following  link www.stnicholas.org/Zoumas
Burial in Cedar Hill Memorial Park Cemetery.  Funeral arrangements are by the John F. Herron Funeral Home in Bethlehem, PA, www.Herronfuneralhomes.com
Contributions: To St. Nicholas Greek Orthodox Cathedral or Ascension Greek Orthodox Church in Fairview, NJ.