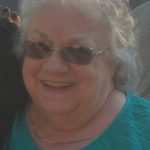 Patricia A. Keeler, 78 of Bethlehem, died on August 9, 2019. She was the wife of William S. Keeler. They were married for 54 years.
Patricia was the daughter of the late Harold P. and Laura A. (Smith) Hartman.
Survivors: Husband William; son Charles A. Hampton, Jr. and his wife Sheila of Allentown; brother Harold P. Hartman, Jr. and his wife Grace of Quakertown and sister Ruth Hartman of Quakertown; grandchildren Cyrstal, Charles III and Devin and great-grandchildren John III, Justin, Josh, Jennah and Aria. Predeceased by daughter Patti J. Behnke, sister Minnie Lembach and stepbrother Bob Moyer.
Service: Viewing on Thursday, August 15 from 10 – 11AM with a service at 11AM at the John F. Herron Funeral Home, 458 Center Street, Bethlehem, PA 18018. www.herronfuneralhomes.com
Contributions: To St. Jude's Children's Hospital