Rev. Fr. Nicholas Kossis (Hieromonk Nikodemos)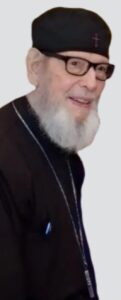 Rev. Fr. Nicholas Kossis (Hieromonk Nikodemos), 93 of Bethlehem Twp., fell asleep in the Lord on April 12, 2022 at St. Luke's Hospital-Anderson in Easton.  He was the husband, of Presbytera Maria (Laoutaris) Kossis for 59 years until her passing on October 28, 2016.
Hiermonk Nicholas was born in Vrisa, Mytelene, Lesvos, Greece on November 19,1928, son of the late Eustratios and Maria (Kolettis) Kossis.
Rev. Fr.  Nicholas Kossis was a Greek Orthodox Clergy  for the Metropolis of Pittsburgh for over 55 years.
His first  Church was Kimisis Tis Theotokou Church in Aliquippa where Father Nicholas  served for 14 years from 1967-1980.  Father than came to Easton in 1980 and served at the Annunciation Greek Orthodox  Church for 23 years, retiring in 2003 at age 70. After he retired,  he served at St. Nicholas Greek Orthodox Cathedral in Bethlehem. He was a beloved Priest to the faithful of the Lehigh Valley and beyond.
Rev. Fr. Nicholas Kossis was tonsured the Hieromonk Nikodemos on October 28, 2019.
For over  30 years he had a Chapel  at his home, St. Raphael, Nicholas and Irene Chapel where he held daily services and was blessed by Bishop Maximos.
Survivors:  Son Stratos N. Kossis husband of Laraine of Nazareth, three grandchildren Christina Kossis Evans wife of Christopher , Nicholas Kossis fiancé of Shannon Morgano  and Gregory Kossis; step sister Maria Kossis.  Predeceased by a daughter Vasiliki Kossis DeAngelo.
Viewing: Thursday April 14, 2022 in St. Nicholas Greek Orthodox Cathedral 1607 West Union Blvd. Bethlehem, PA  18018, from  7PM where the  Clergy will hold an, all-night vigil in the Cathedral.
Viewing & Service:  Friday April 15, 2022  the Ninth Hour and PreSanctified Liturgy will be celebrated at 8am with a viewing following from 10-11AM.  The Funeral Service for a Clergyman will be held at 11am, presided over by His Eminence Metropolitan Savas.  Burial will be at Holy Protection Monastery 1 St. Joseph's Way White Haven, PA 18661. The funeral service will be livestreamed using the following: www.stnicholas.org/FrKossis
Contributions:   In lieu of flowers to Annunciation Greek Orthodox Church in Easton, St. Nicholas Greek Orthodox Cathedral in Bethlehem  or Holy Protection Monastery in White Haven all in care of the Herron Funeral Home 458 Center Street Bethlehem, PA  18018. www.Herronfuneralhomes.com