Richard R. Scheidler, Sr.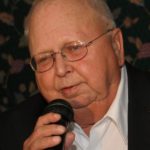 Richard R. Scheidler, Sr. 83 of Allentown died on Saturday, June 2, 2018 at home surrounded by his family. Husband of Shirley A. (Attrill) Scheidler they would have been married 63 years on July 23rd.
Richard was born in Allentown on May 17, 1935 son of the late John and Irene (Weidner) Scheidler.
He was a page designer at the Morning Call retiring after 47 years.
Known as Dickie to his many friends, he touched the lives of all he met with his outgoing, "hold nothing back" personality. He truly enjoyed golfing and singing to crowds and his rendition of Sinatra's "My Way" and "New York, New York" brought countless numbers to their feet. His was a life well lived and for his contribution to the happiness of others he has earned a standing ovation.
Survivors: Wife Shirley; daughter Susan E. Scheidler and her friend Larry Leibensperger of Salisbury Twp.; son Richard R. Scheidler, Jr. husband of Lynda of Bethlehem; three grandchildren Todd and his wife Amanda, Tanya and her fiancé Todd Kristie, and Justin and his fiancé Danielle; six great-grandchildren Ayden, Morgan, Trystyn, Alyssa, Austyn and Logan.
Service: Private at the convenience of the family, funeral arrangements by the Sell-Herron Funeral Home 1145 Lehigh Street Allentown.
Contributions: Lehigh Valley Hospice 2024 Lehigh Street Suite 100 Allentown, PA 18103.