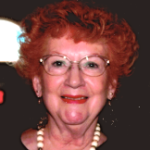 Rita M. Fafard of Allentown died on January 20, 2016 at the Hospice House of St. Luke's in Lower Saucon Twp. The beloved partner of the late William (Bill) Sharp, III who died in 2009.
Rita was born on August 19, 1934, the only child of the late Martin and Emma (Fiedler) Fuellenbach.
She graduated from Allentown High School in 1952 and was a member of the Girls of '52. Rita was employed by Harwick Appliances for 10 years and Sacred Heart Hospital for 21 ½ years.
Rita was a resident at Westminster Village in Allentown and touched the lives of both residents and staff there. She performed in Westminster's Kazoo Band and was active in Bingo and Pinochle.
She was a member of the Happy Boombadiers and Lehigh County Senior Citizens Pinochle groups and the Krazy Kids.
For those who knew Rita, she loved and cared for people. She was an avid gardener and bird watcher; adored her cats Katie and Cat; and enjoyed music. Please celebrate her life with those whom she has known and loved.
Survivors: Rita treasured her family and extended family. She leaves behind daughters, Kim M. Schaeffer and Robin J. Harmony; daughter-in-law Tracy Goetz; grandchildren Rachel Harmony, Joshua Harmony and wife Andrea, and Kosha Goetz. Predeceased by a son William G. Goetz, III in January of 2015. Also survived by Bill's children and grandchildren. Step children, grandchildren, and great grandchildren.
Service: A Time of Remembrance will be on Tuesday, January 26, 2016 at from 10:30AM to 12:00PM in the Sell-Herron Funeral Home 1145 Lehigh Street in Allentown.
Contributions: In Rita's memory, perform a gesture of kindness for someone. Or, contributions can be made to Forgotten Felines and Fidos.