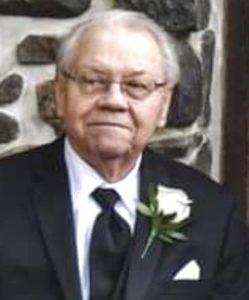 Robert E. Weidner, 85 of Allentown passed away on November 25, 2021 surrounded by his family at Lehigh Valley Hospital-Cedar Crest.  He was the husband of Dorothea "Dolly" (Haffner) Weidner, they were married  63 years on May 10th.
Robert was born in Lower Macungie Township on August 26, 1936, son of the late William and Andora (Weil) Weidner.
He was an assembly line worker at Mack Trucks for many years until he retired.
He was a member of Grace Lutheran Church in Macungie.
Survivors:  His wife Dolly, their sons Robert Scott Weidner  husband of Marguerita of Catasauqua, Randy Weidner  husband of Joanne of Macungie and Tim Weidner of Allentown, 7 grandchildren and  4 great-grandchildren.  Predeceased by a baby brother William Weidner.
Viewing and Service:  Saturday December 4, 2021, viewing 10AM to 11AM followed by the service at 11AM   at the Sell-Herron Funeral Home 1145 Lehigh Street Allentown.  Burial to follow in Highland Memorial Park in Allentown. www.HerronFuneralHomes.com