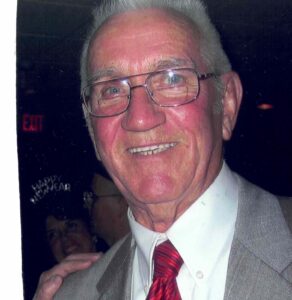 Robert S. Beck, Jr. of Allentown passed away on August 12, 2023.  He was the husband of  Janet Irene (Whitehouse) Beck,  they just celebrated their 77th wedding anniversary on August 6th.
Robert was born in Allentown on April 18, 1927, son of the late Robert S. and Hazel (Maley) Beck, Sr.
Bob was a Boy Scout in his formative years.
He served in the US Army during World War II.
He was a member of St. Mark's UCC in Allentown.
Bob worked as a crane operator at the Bethlehem Steel Company for over 35 years.  During his time at the Steel Company he also worked as a veterinary assistant to Dr. Iobst, was a janitor at the Mountainville Fire Company, was the first animal control man for Lehigh County, worked at the SPCA, now the Lehigh County Animal Shelter and for many years was the superintendent of St. Mark's Cemetery in Allentown.
He was a spicket member of the Fearless Fire Company in Allentown.
Survivors:  His wife Janet, daughters Donna Seagreaves wife of John of Center Valley, Susan Uhl wife of Boyd of South Whitehall, Claudia Hein wife of David of Northampton, sons Scott D. Beck husband of Kathy of Coopersburg, and Robert  D. Beck  husband of Lisa of South Whitehall, 12 grandchildren and 15 great grandchildren. Predeceased by sister Alice Clemmer, twin-sister Ellen Moyer, brothers Ralph Beck and David Beck.
Memorial Service:  Monday August 21, 2023, calling from 10AM to 11AM followed by a Memorial Service at 11AM in the Sell-Herron Funeral Home 1145 Lehigh Street Allentown, PA  18103.  Burial with Military Honors to follow at St. Mark's Cemetery in Allentown. www.Herronfuneral homes.com
Contributions:  In his memory to Lehigh Valley Hospice or to the American Cancer Society.