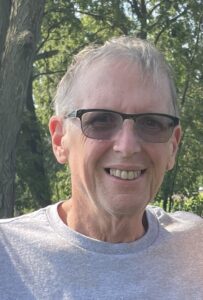 Ronald S. Washburn, 68 of Allentown passed away at his home on October 24, 2023 surrounded by his loving family.  He was the husband of Rosemary (Ernst) Washburn, they married 49 years on May 3rd.
Ronald was born in Easton on September 9, 1955 son of Joyce (Frey) Washburn and the late Donald Washburn.
He was a Sweep Officer for the City of Allentown retiring after many years.  Prior to that he was a crane operator at the Bethlehem Steel Company.
He was of the Protestant faith.  Ron loved roller skating, his motorcycles and was the family photographer for many years.
 Survivors:  His wife Rosemary, Mother  Joyce, son Shawn Washburn of Bethlehem, daughters Karen Krasley (Matt Klusaritz)  of Northampton and Gwen M. Washburn of Allentown;  four grandchildren Courtney Krasley (Donald Ellis), Kiley Krasley, Corrine Krasley and Connor C. Gall; sister Donna Washburn of Easton. Also survived by his faithful golden retriever Zoe, predeceased by  three golden retrievers Flakey, Lady and Molly.
Viewing & Service:  Monday October 30, 2023 viewing 10AM to 11AM followed by the Funeral Service at 11AM all at the Sell-Herron Funeral Home 1145 Lehigh Street Allentown. Burial in Grandview Cemetery in Allentown. www.Herronfuneralhomes.com
Contributions: In lieu of flowers to the  Ghana Fund  in c/o Horizon Church 2613 W. South St. Allentown, PA 18103. (A Mission Fund to Rescue Children, all donations go directly to Ghana Fund)